Take your small biz to the next level.
So you've taken the plunge and started your own business. But now what? To sustain your business, you need to build it. If you're not sure where to start, we're here with some expert advice on how to get the word out and build your new brand.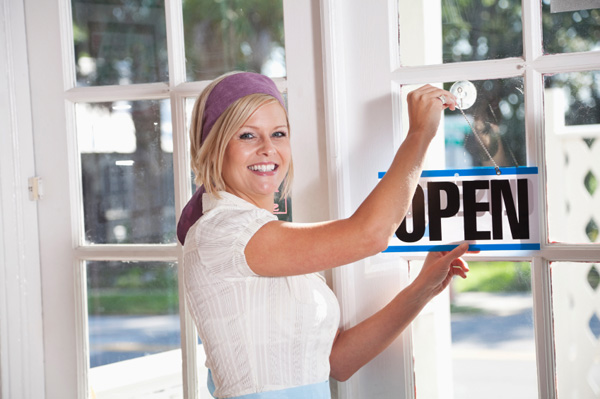 We asked Tyler Barnett, president of Tyler Barnett Public Relations, for his best advice on growing your small business successfully.
1
Know it's OK to grow slowly
While the best plan might seem to be to grow your business as quickly as possible, taking it slowly can be beneficial. "The only thing worse than not being able to grow your business is not being able to handle the growth," says Barnett. "Take your time, grow slowly and make sure you are prepared for each stage of growth before it happens," he advises.
2
Invest in your employees
Hiring the right people is a key component in ensuring your business succeeds, so take the process seriously. "There is a lot of competition and a lot of people looking for work, but not everyone is going to be perfectly qualified for your company," Barnett warns. "Find someone who complements your business and is better at it than you."
3
Focus on a single niche, and perfect it
Too many small businesses try to offer products and services outside of their expertise, which can impede growth, notes Barnett. Instead, he advises being a master of one trade or product and not moving on to others until you have perfected it. "Less is more in business, and expertise always wins out."
4
Network frequently
You've likely heard about the importance of networking when it comes to business success. There's a good reason for that. "You may just meet the right person who can help make your company even more successful," says Barnett. Make a point of going to trade shows, speaking events, conferences and workshops to meet new contacts.
5
Create strategic partnerships
Some small businesses can benefit from joining forces with a company that complements them, something that can expand your customer base and put you in contact with other people in your industry, explains Barnett. He suggests charities as a great partnership that can be mutually beneficial.
6
Be selective
When you're just starting out, it can be hard to say no to work, but try to be selective. "Don't rush to take on every new client you come across," advises Barnett. "While the money may be tempting in the moment, it could distract you from the greater objective and slow your growth."
7
Be a manager and entrepreneur, not an employee
As much as you want to ensure everything runs smoothly, Barnett warns against getting too caught up in the day-to-day responsibilities. Instead, build your leadership skills, and empower your employees to do their best. "If you are busy doing the day-to-day work, you will not have enough time to focus on business development."
8
Keep motivated, energetic and excited about your field
There's no way to grow your business if you don't have a genuine love of what you're doing. "Energy and enthusiasm are contagious and will be felt by your employees and clients," explains Barnett. "If you are passionate about what you do, others will be too. Never underestimate the power of passion."
9
Set realistic goals each day, week, month and year
Having goals is important, but keep them attainable if you want to continue moving your business forward. "Rather than focusing on one massive goal, like becoming rich or selling your company, focus on small goals," says Barnett. "The process of setting a goal and reaching it is very empowering and will keep you motivated when things get a bit tough," he explains.
10
Market, market, market
If you don't get the word out about your small business, it's never going to grow. You can market your business in numerous ways, says Barnett, most of which don't cost anything. "If no one knows about your business, it doesn't really matter what you are doing. Tell the world about your company, and do not be shy about it."